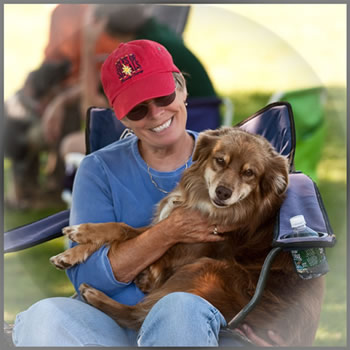 Managing Member, Marcia Welch has been teaching people to train their dogs for over 20 years and is dedicated to helping people strengthen and maintain the bond they share with their dogs. She is passionate about Training and Learning (through continuing education in Learning Theory, Classroom Instruction, Ethology, and Animal Husbandry and in all of the areas of interest in which she teaches and competes) and enthusiastically shares that joy with her students. She says "It is a particular pleasure to help to shape well behaved, cherished family companions as well as competition-ready teams."
She is the former President and Training Coordinator for Casco Bay Dog Training Club (CBDTC). She is a member of the Australian Shepherd Club of America (ASCA), the United States Australian Shepherd Association (USASA), the Australian Shepherd Club of New England (ASCNE), Northeast Stockdog Association (NESA), she has been a member of Therapy Dogs International (TDI), served as New England co-coordinator for ASCNE Rescue. She is a Member (#148) of the Association of Pet Dog Trainers (APDT). Marcia is an AKC Certified Evaluator for the CGC, Tricks, and ACT Programs.
Marcia trains her own dogs in obedience, agility, herding, rally, tracking, K9 NoseWork, and musical canine freestyle. She has enjoyed national and regional recognition and multiple high-in-trials in various venues with her dogs in the areas in which she trains and competes and is grateful to her dogs as teachers, partners, and friends. She credits her dogs and their joy in learning through reward based training for her successes. She says "It is a privilege to partner with such wonderful, unique beings. I love the bond that is forged through training. It is a natural outgrowth of my lifelong love of animals in general, and dogs in particular".
---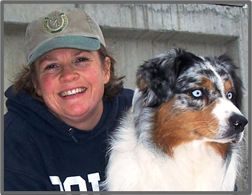 Member, Pam Parker, CPDT-KA After a childhood filled with cherished but very poorly behaved dogs, Pam enrolled a pet dog obedience class with her first Australian Shepherd puppy in 1996. Within 6 months, Moxie and Pam competed in their first obedience trial and conformation competition, earning 2 qualifying legs and taking best of breed twice. They finished Moxie's CD title before he was a year old and his AKC championship shortly thereafter.
But things never proceed as expected and when her second Aussie developed serious dog aggression issues, Pam's dog training and dog behavior education really began. Pam began teaching in 2001, since then she has taught countless puppy, beginner, beyond beginner, Mind Your Manners, and CGC preparation classes for Casco Bay Dog Training Club and subsequently PBF. She also has been involved with the Australian Shepherd rescue. Because of her experience with her own challenging dogs and the rescues she has fostered, Pam is passionate about helping dogs and their handlers figure out the underlying reasons for behavior issues and obtain the skills necessary to be a safe and happy team. Pam is fascinated by animal behavior and loves to watch dogs and handlers interact. She strives to understand the challenges they face and the different ways they learn. This helps determine what tools might best to assist them reaching their goals. Pam believes strongly that we must always have a "beginner's mind" and continually be open to what every new experience can teach us.
Pam added therapy dog preparation and agility instruction to her resume in 2013.
She continues her own learning in animal behavior, obedience, conformation, agility, stock, and most recently canine nosework. She does this by taking many classes, attending seminars, clinics plus training and competing with her own dogs and a very large horse. Contact Pam@positivelybestfriends.com
---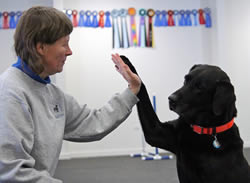 Ann Walko CPDT-KA, Annís dog training education originates in the guide dog world. She began as a volunteer puppy raiser in 2004 but was soon mentoring other raisers. Several years later she was employed at Guiding Eyes for the Blind as a Puppy Program Regional Manager. While there, she evaluated eight week old puppies for the temperament and confidence needed for guide dog work along with teaching group classes of volunteer raisers. She continues to help with the pups being raised in Maine after leaving Guiding Eyes and returning home.
She enjoys helping owners create great canine companions Ė having a dog that is enjoyable to be with and comfortable in many situations. Ann says, ďItís wonderful to watch the developing relationship between owners and their pups.Ē Ann has shared her life with several Labradors. Her current teammate is Willy, a male black Lab. Willy enjoys sniffing (nosework), running and jumping (agility) and picking up anything Ann drops.
---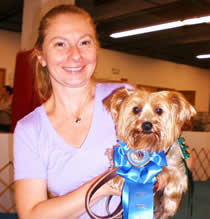 MAYA ROBINSON, CPDT-KA, Maya's love of dog training started when she volunteered at the ASPCA in NYC. While she was there, she helped take care of the shelter dogs and took them to the basic obedience classes to help them become more adoptable. She later started working at another shelter, Animal Haven where she worked for 9 years. At Animal Haven, she was the Behavior and Enrichment manager for the dogs. She developed the enrichment program for the shelter dogs and was responsible for setting up behavior modification programs for the dogs that needed a little bit of help getting adopted. She would also help newly adopted dogs settle into their new homes. She moved back to Maine in June of this year. Maya's dog Pebbles has her Canine Good Citizen certificate, competes in the higher levels of agility and has her novice Tricks title. Her younger dog, Pips has his CGC, novice Tricks title and is learning how to do agility. Maya is a member of the Association of Pet Dog Trainers (APDT), the Pet's Professional Guild (PPG) and the International Association of Animal Behavior Consultants (IAABC).
---
Cindy Ratner is one of our agility instructors. She has had dogs since birth and has been training and competing with her dogs since the 1980ís. Her training emphasizes relationship, communication, and foundation. She is known for being very clear and motivational with her instruction and for holding classes that are relaxed, yet challenging. Her goal is to provide flexible instruction so as to meet the needs of the hobbyist as well as those of the serious competitor.
Cindy has lived with and/or trained dogs from every group, including mix- breeds and rescues. Her dogs have competed in and hold numerous titles in agility and obedience, have dabbled in herding and conformation, have modeled for print ads, and television commercials and have done therapy work. Her dogs have had several national and regional top ten rankings in multiple sports.
Cindy was bitten (pun intended) by the training bug while spending childhood summers hanging around her auntís obedience school. She has been an instructor since the late 1980ís when she taught both pet and competition obedience for Vacationland Obedience Training Club. She has conducted therapy groups for special-needs individuals with dog phobias and designed a self-awareness program for at-risk teens using dog behavior, training, and husbandry as a model. She currently teaches agility classes and seminars and offers private instruction in agility, pet obedience, and does behavioral consultations.
Cindy lives in Cape Elizabeth with her husband, Jim, her son, Eli and her daughter, Delaney(when she is not away at Umass), who is also an accomplished agility competitor and instructor, having placed at and won several national championships, as well as the inaugural Westminster Kennel Club Agility Championship. They share their home with 4 dogs and one very tolerant kitty, Mabel.
You can reach Cindy at cinzep@maine.rr.com.
---
Member, Nell Tharpe
* Certified through the Certification Council for Professional Dog Trainers (CCPDT), the first national certification for dog trainers.