Policies
COVID-19 POLICIES
PBF is requiring wearing of masks (either 3-ply surgical or KN95/N95) indoors, social distancing, and we are following current CDC guidelines. It is certainly fine if folks would like to wear their "decorative" cloth masks OVER their 3-layer surgical or N95/KN95 masks. Please put your mask on before you enter the building. We encourage everyone to be fully vaccinated.
Students may enter the building 5 minutes before class begins. Please wait in your car until then and wait until the class before you has exited the building.
We will continue to emphasize the importance of maintaining distance, washing your hands, and the use of hand sanitizer.
With your help, we will all continue to take care of each other and continue our commitment to keep our instructors, and all who gather, here, healthy and safe.
Our windows will remain open for adequate ventilation. :-)
Thanks for your cooperation!
Class/Event Registration:
When you make a commitment to take a class with us, we hold that spot for you and your dog. NO REFUNDS will be issued after we have confirmed your registration, because we turn away other teams once a class has reached full enrollment. It's always a good idea to be sure the class dates coordinate with your schedule before you register.
Cancellations/Postponements:
If we must cancel a class due to inclement weather, the cancellation will be posted on Positively Best Friends FACEBOOK page at least 3 hours before class time. We will add an extra class at the end of the session.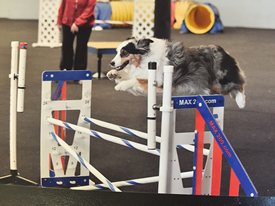 Missed Classes:
Make-Up Classes will be allowed ONLY in special instances (if there is space in a similar class) due to unforeseen circumstances such as illness or injury and will be decided on a case-by-case basis with the Instructor. Our class structure includes review of the prior week's class material at the beginning of each class meeting, so you will have an opportunity to work on what you may have missed the preceding week.
Vaccines for Dogs:
Required vaccines for dogs: rabies, distemper, adenovirus, parvo, parainfluenza (usually contained in a combination vaccine). Vet signed titers are allowed. Other vaccines that are strongly recommended but not required include leptospirosis and bordetella ("kennel cough").
Crate Room:
PLEASE NOTE! Use of the crate room must be pre-approved by your class instructor. Be sure to provide appropriate shade/warmth for your car as dogs may have to wait in cars for their turn in some classes.
We offer accommodations for your dog during classes and events in our crate room. Crates are there for all dogs' comfort and safety while waiting their turn in class, when necessary. However, If your dog is not comfortable being left in the crate room, please have them wait in the car. Chronic and disruptive barking is upsetting to the other dogs who are crated as well as being an indicator that your own dog is stressed. We are concerned for the welfare of all dogs who train with us.